FordPass Rewards Visa

FordPass Rewards Visa at Premier Ford Of Lamesa
Savvy Texas consumers are excited to learn more about the exceptional reward opportunities offered by the FordPass Rewards Visa. This Reward Visa card allows you to earn points on everything you purchase using a Visa, and best of all, there is no annual fee to have this worthwhile card. Instead, you are rewarded with a treasure trove of points that you can apply to the purchase of your next Ford vehicle, service, maintenance, or a parts purchase at Ford dealerships like Premier Ford of Lamesa, located between Midland and Lubbock on route 87.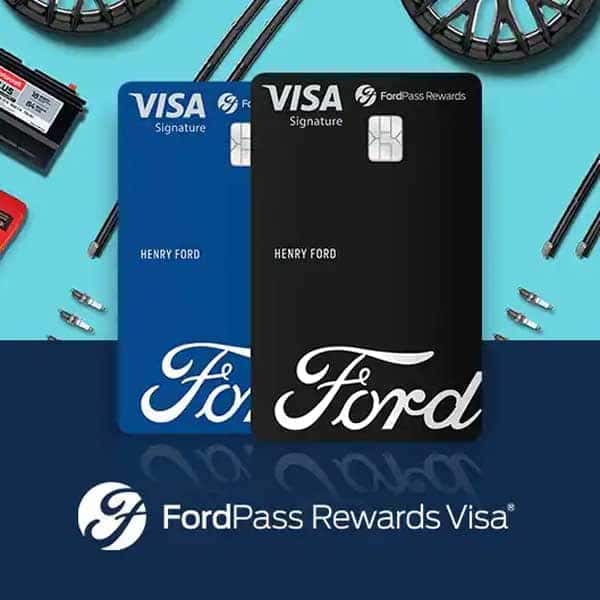 Exciting Features And Benefits
Earning rewards on all of your purchases is a simple way to reduce the cost of your next Ford purchase. Because the Ford Motor Company believes that everyone should have reliable and safe transportation, the FordPass card offers added earning opportunities for each purchase related to your vehicle and transportation. Your points will accrue very quickly thanks to earning:
5% back in points on all purchases at a Ford Dealership
3% back in rewards for all purchases of gas, vehicle insurance, tolls, parking, and dining
1% back in rewards on all other purchases
10% back on all service at a Ford Dealership
In addition, you can earn a $200 annual statement bonus when you spend $6,000 in 12 consecutive billing cycles after opening the account. It has never been easier to earn rewards on everything you purchase and apply the savings to your next Ford purchase.
An Easy Way To Monitor Spending
It is easy to keep track of purchases and manage your banking with the FordPass online service suite. It can be accessed via your computer or through the mobile app to:
Check your Visa card balance
View all transactions on your Visa
Make a payment
Track your spending by category
Change account settings like going paperless or setting email alerts
View or download your Visa statement
Monitor your FICO score
Everything you need is in one place with many fast and straightforward ways to access this critical financial information.
Important Safety Features
Your FordPass Visa also provides several amazing safety features to help you protect your credit score and money. These tools include:
Zero liability for unauthorized purchases made on your card or with your account information
Fraud monitoring to protect your identity and flag suspicious activity
Free replacement for stolen or lost FordPass Visa cards
All FordPass Visa cards are chip-enhanced to encrypt your personal and account information
Getting Your FordPass Rewards Visa
The only thing left for you to do is take a moment to request your FordPass Rewards Visa. Be sure to sign up today, as there are often bonus promotions to allow you to earn more rewards to apply to your next Ford purchase. In addition, you can increase your card status to unlock exclusive benefits and more rewarding experiences.
Visit Premier Ford of Lamesa to learn more about using your FordPass reward points to purchase your next Ford vehicle or schedule service for your current Ford and earn an astonishing 10% back in rewards.